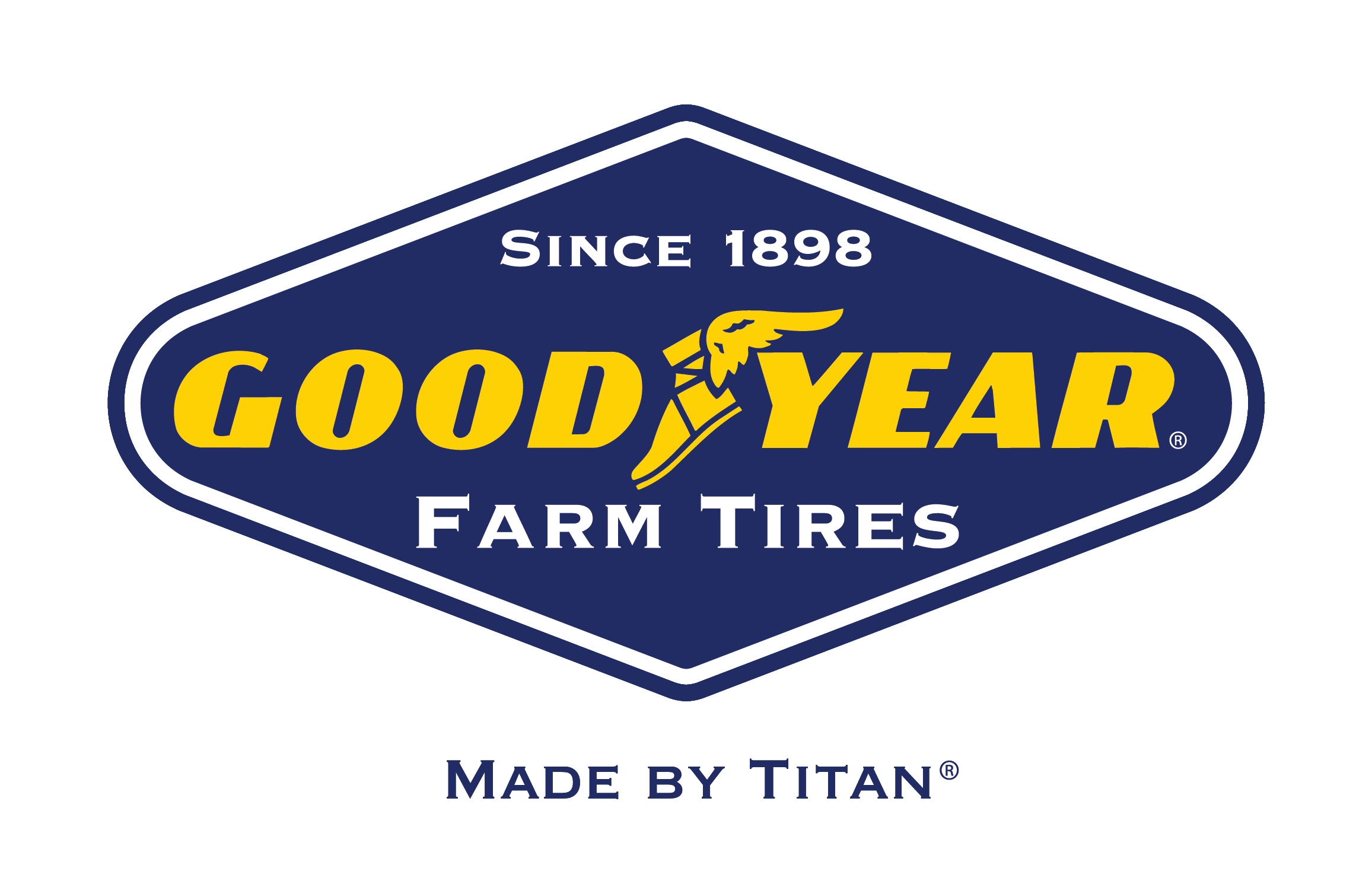 agricultural tyres
NEW FOR EUROPE
Field and family are your legacy. Innovation and quality are ours. All of these are tied together. Our legacy stretches back more than 120 years ago to the Electric Wheel Company. More than a century later, you can still rely on us to keep you moving.

We've drawn on our 120 years of agricultural expertise to expand our Goodyear Farm Tires with a range specially engineered for the European market. Built to withstand the harshest of conditions, our new ECE accredited range is available to view here.
To support your farming legacy, our family of local dealers take a proactive approach when it comes to your operation. This is because we believe that reliable products still need backing by quality service. Our dealers work with you to find solutions that fit your needs, and don't pressure you into the latest and greatest, but those options are there if you need them. Our Titan and Goodyear Farm Tire range of agricultural tyres fits many kinds of equipment, including tractors, combines, sprayers and skid steer loaders. They're durable on and off the field you can rely on them to get the job done.
EUROPEAN TITAN TURF RANGE
Designed to be kind to both grass and turf terrain featuring a range of turf friendly tread patterns that minimise ground disturbance and turf damage. 
TITAN MULTI TRAC C/S HF-1 BIAS
Greater tread depth and more rubber on the contact surface to provide increased puncture resistance and longer tire life
Shoulder design minimizes turf damage
| Tire Size | Design | TL/TT | Ply Rating | Load Index | Max Load Kg | Recom'd Rim Width | Tire Width mm | Overall Diameter mm |
| --- | --- | --- | --- | --- | --- | --- | --- | --- |
| 16x6.50-8IMP | Multi Trac C/S | TL | 8 | 79A4 | 437 | 5.38 | 172 | 417 |
| 20x8.00-10IMP | Multi Trac C/S | TL | 4 | 74A4 | 375 | 6.00 | 204 | 512 |
| 20x8.00-10IMP | Multi Trac C/S | TL | 8 | 89A4 | 580 | 6.00 | 210 | 517 |
| 26x12.00-12IMP | Multi Trac C/S | TL | 6 | 108A4 | 1,000 | 10.50 | 316 | 658 |
| 23x8.50-12IMP | Multi Trac C/S | TL | 4 | 83A4 | 487 | 7.00 | 215 | 581 |
| 230/55D12IMP | Multi Trac C/S | TL | 4 | 83A4 | 487 | 7.00 | 215 | 568 |
| 23x8.50-12IMP | Multi Trac C/S | TL | 6 | 92A4 | 630 | 7.00 | 217 | 571 |
| 26x12.00-12IMP | Multi Trac C/S | TL | 4 | 99A4 | 775 | 10.50 | 314 | 648 |
| 23x10.50-12IMP | Multi Trac C/S | TL | 6 | 99A4 | 775 | 8.50 | 263 | 587 |
| 24x8.50-14IMP | Multi Trac C/S | TL | 8 | 101A4 | 825 | 7.00 | 219 | 615 |
| 24x8.50-14IMP | Multi Trac C/S | TL | 4 | 87A4 | 545 | 7.00 | 218 | 616 |
| 25x8.50-14IMP | Multi Trac C/S | TL | 4 | 89A4 | 580 | 7.00 | 220 | 645 |
| 25x8.50-14IMP | Multi Trac C/S | TL | 6 | 97A4 | 730 | 7.00 | 222 | 651 |
| 29x12.50-15IMP | Multi Trac C/S | TL | 8 | 107B | 975 | 10.00 | 323 | 742 |
| 27x10.50-15IMP | Multi Trac C/S | TL | 10 | 108B | 1,000 | 8.00 | 263 | 707 |
| 380/70D15IMP | Multi Trac C/S | TL | 4 | 114B | 1,180 | 10.00 | 383 | 938 |
| 31x13.50-15IMP | Multi Trac C/S | TL | 8 | 114B | 1,180 | 10.00 | 353 | 786 |
| 27x8.50-15IMP | Multi Trac C/S | TL | 4 | 88B | 560 | 7.00 | 214 | 684 |
| 27x10.50-15IMP | Multi Trac C/S | TL | 4 | 90B | 600 | 8.00 | 266 | 659 |
| 29x12.50-15IMP | Multi Trac C/S | TL | 4 | 90B | 600 | 10.00 | 319 | 749 |
| 210/75D15IMP | Multi Trac C/S | TL | 4 | 94B | 670 | 7.00 | 214 | 707 |
| 27x8.50-15IMP | Multi Trac C/S | TL | 6 | 96B | 710 | 7.00 | 219 | 699 |
| 31x13.50-15IMP | Multi Trac C/S | TL | 4 | 98B | 750 | 10.00 | 352 | 801 |
| 29x12.50-15IMP | Multi Trac C/S | TL | 6 | 99B | 775 | 10.00 | 319 | 748 |
| 21.5L-16.1IMP | Multi Trac C/S | TL | 4 | 124B | 1,600 | 18.00 | 539 | 1,136 |
| 320/65D16.5IMP | Multi Trac C/S | TL | 4 | 110B | 1,060 | 9.75 | 322 | 830 |
| 41x14.00-20IMP | Multi Trac C/S | TL | 4 | 120B | 1,400 | 11.00 | 370 | 1,066 |
| 44x18.00-20IMP | Multi Trac C/S | TL | 4 | 123B | 1,550 | 14.00 | 472 | 1,141 |
| 44x18.00-20IMP | Multi Trac C/S | TL | 6 | 131B | 1,950 | 14.00 | 468 | 1,141 |
TITAN MULTI TRAC R-3 BIAS 
Greater tread depth and more rubber on the contact surface to provide increased puncture resistance and longer tire life
Shoulder design minimizes turf damage
| Tire Size | Design | TL/TT | Ply Rating | Load Index | Max Load Kg | Recom'd Rim Width | Tire Width mm | Overall Diameter mm |
| --- | --- | --- | --- | --- | --- | --- | --- | --- |
| 13.6-16 | Multi Trac R-3 C/S | TL | 8 | 110A8 | 1,060 | 12.00 | 368 | 1,013 |
TITAN TORC-TRAC R-3 BIAS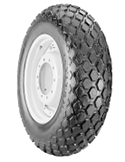 Minimizes ground disturbance with its wide, flat fooprint and deep grooves
Performance proven as an original equipment tire
| Tire Size | Design | TL/TT | Ply Rating | Load Index | Max Load Kg | Recom'd Rim Width | Tire Width mm | Overall Diameter mm |
| --- | --- | --- | --- | --- | --- | --- | --- | --- |
| 18.4-26 | Torc Trac | TL | 10 | 138A8 | 2,360 | 16.00 | 491 | 1,425 |
| 18.4-26 | Torc Trac | TL | 12 | 142A8 | 2,650 | 16.00 | 498 | 1,452 |
| 23.1-26 | Torc Trac | TL | 10 | 145A8 | 2,900 | 20.00 | 620 | 1,574 |
TITAN TORC-TRAC II R-3 BIAS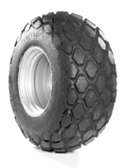 This rugged tire minimized ground disturbance with a button tread pattern that offers good performance on vibratory rollers and combine applications
| Tire Size | Design | TL/TT | Ply Rating | Load Index | Max Load Kg | Recom'd Rim Width | Tire Width mm | Overall Diameter mm |
| --- | --- | --- | --- | --- | --- | --- | --- | --- |
| 620/70D26 | Torc Trac II | TL | 8 | 141A8 | 2,575 | 20.00 | 607 | 1,532 |
TITAN FLO-TRAC RIB HF-1 BIAS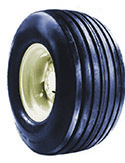 Designed for maximum flotation and durability
Low section height gives it improved handling
| Tire Size | Design | TL/TT | Ply Rating | Load Index | Max Load Kg | Recom'd Rim Width | Tire Width mm | Overall Diameter mm |
| --- | --- | --- | --- | --- | --- | --- | --- | --- |
| 31x13.50-15IMP | Flo Trac Rib | TL | 8 | 114B | 1,180 | 10.00 | 356 | 779 |
| 27x9.50-15IMP | Flo Trac Rib | TL | 6 | 97B | 730 | 7.00 | 241 | 683 |
THE NEW GOODYEAR FARM TIRES RANGE