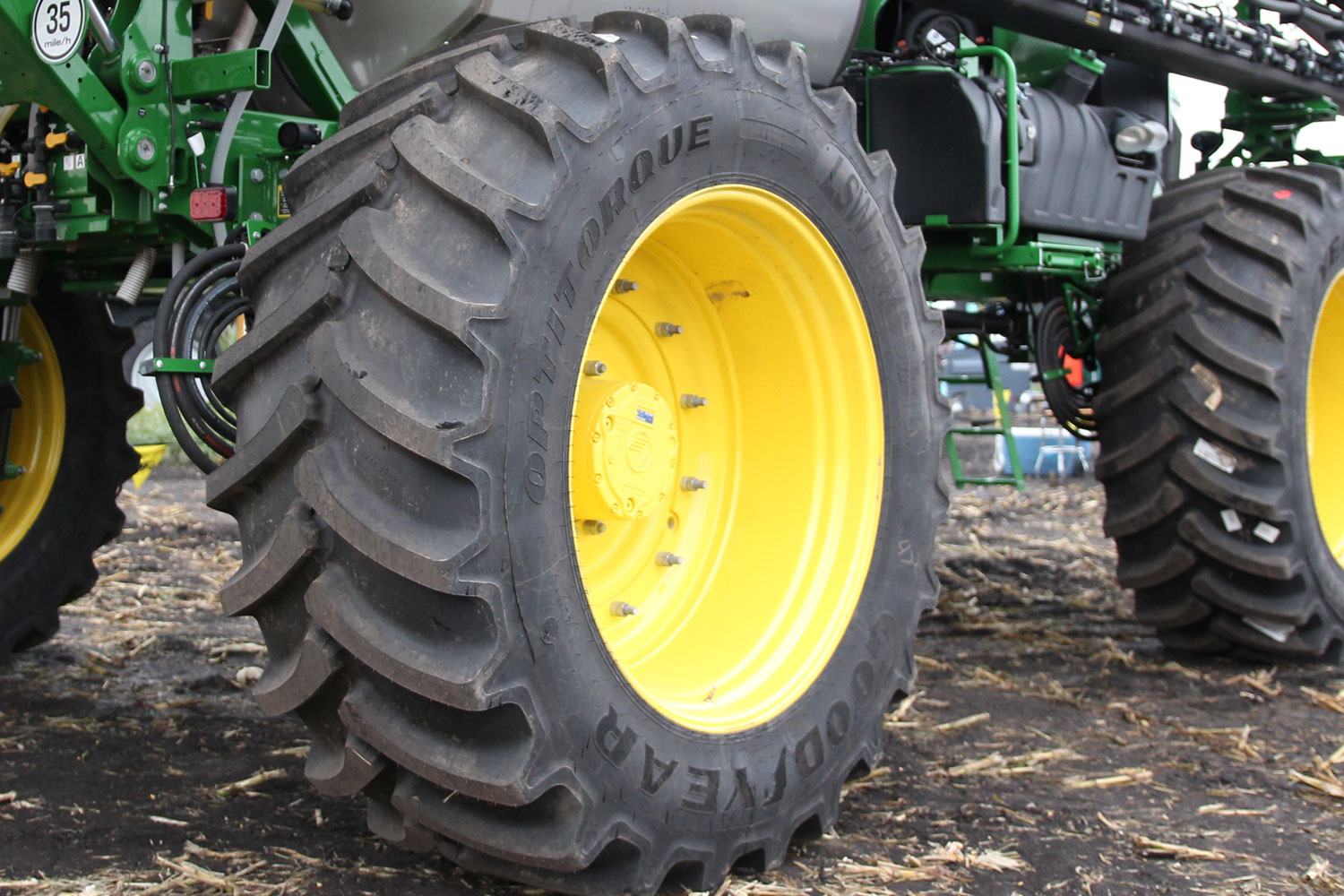 Titan introduces new R-1 flotation sizes
Goodyear®Optitorque line to include 12 new sizes,

with flotation sizes no other manufacturer offers
DES MOINES, Iowa— Titan International, Inc. (Titan) is pleased to introduce an expansion of the industry's leading R-1 tread design. Available in the Goodyear®Optitorque line, the radial sizes are new R-1 options for high horsepower tractors in arid farming regions; scraper applications and sprayers, including large flotation options.
"Up until now these larger flotation sizes have only been offered in an R-1W tread, a tire designed for wet field conditions that has 20 to 25 percent deeper lugs than R-1 tires," said Scott Sloan, ag product manager at Titan. "We're seeing increased demand from original equipment manufacturers, dealers and customers in areas where an R-1 is more beneficial and cost-effective than an R-1W tire. We're excited to offer a solution for growers in these applications."
The deeper lug of the R-1W can cause field damage when heavy equipment is operated in hard-pan soil conditions. This damage may include lug or cleat marks, disrupted soil and end-row ruts. Long transport runs may also cause premature wear to R-1W tires. The Optitorque R-1 tread pattern is better able to handle the demands of high-torque scraper applications on hard surfaces with less soil disruption.
The Optitorque features a wide lug base for smooth roading and less rutting in fields; a wide footprint for reduced ground pressure and soil compaction; and a large nose and shoulder design to reduce vibration on the road and promote stability.
Titan is the only company to offer the industry-first VF1000/50R25CFO and VF1050/50R32CFO sizes, with the expanded Optitorque lineup including both row crop and industry-unique flotation sizes, many with Low Sidewall Technology®(LSW®).
New sizes include: LSW710/65R46, VF1000/50R25CFO, VF1050/50R32CFO, 380/105R54, 380/80R38, 420/85R34, 480/80R50, 800/70R38, LSW680/50R46, LSW800/55R46, VF480/80R50 and LSW480/70R54.
These new additional sizes complement the existing lineup of sizes ranging from 230 millimeter to 750 millimeter section widths.
For more information, visit www.titan-intl.com.
About Titan International, Inc.
Titan International, Inc.(NYSE: TWI) is a leading global manufacturer of off-highway wheels, tires, assemblies and undercarriage products. Headquartered in Quincy, Illinois, the company produces a broad range of products to meet the specifications of original equipment manufacturers (OEMs) and aftermarket customers in the agricultural, earthmoving/construction, and consumer markets. In the United States, the company produces two distinct tire brands — Goodyear®Farm Tires and Titan Tires.
# # #
© 2019 Titan International
All Rights Reserved.
Please send all reader and sales inquiries to: corp.marketing@titan-intl.com