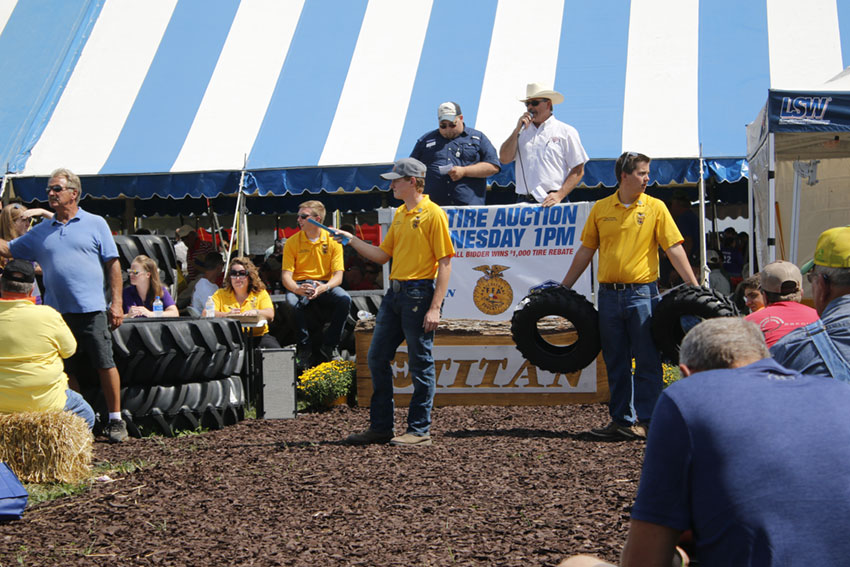 Annual Titan Tire auctions raise more than $82,000 for state FFA chapters in 2019
DES MOINES, Iowa — Titan International, Inc. (Titan) is proud to announce a combined fundraising total of more than $82,000 tobenefit FFA chapters in Illinois, Indiana, Georgia, Nebraska and South Dakota as a result of special event tire auctions in 2019. For more than two decades, Titan has held auctions at various farm shows where the public can purchase Titan and Goodyear® Farm Tires with 100 percent of proceeds going to support their state FFA organization. This year's shows included Dakotafest, Farm Progress Show, Husker Harvest Days and Sunbelt Ag Expo.
Each year, Titan auctions off hundreds of tires for FFA chapters, using all proceeds as monetary support for education and hands-on leadership training. Titan's first FFA tire auctions took place in 1996 at the Farm Progress Show and Sunbelt Ag Expo — both auctions continue to this day.
"This is one of our favorite ways to give back," said Scott Sloan, agricultural products manager for Titan and Goodyear Farm Tires. "We are proud to support FFA's commitment to developing future leaders. Plus, growers get the chance to bid on a variety of farm tires at a highly discounted price."

For more information contact: Kim Boccardi 217.228.4032 kim.boccardi@titan-intl.com
Titan International, Inc. (NYSE: TWI) is a leading global manufacturer of off-highway wheels, tires, assemblies and undercarriage roducts. Headquartered in Quincy, Illinois, the company produces a broad range of products to meet the specifications of original equipment manufacturers (OEMs) and aftermarket customers in the agricultural, earthmoving/construction, and consumer markets. In the United States, the company produces two distinct tire brands — Goodyear® Farm Tires and Titan Tires.
© 2019 Titan International, Inc. TWI, Quincy, IL.
All Rights Reserved.
Please send all reader and sales inquiries to: corp.marketing@titan-intl.com
# # #